2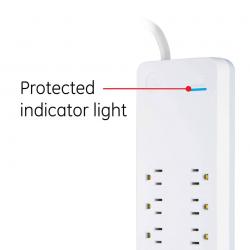 GE Pro 10-Outlet Surge Protector 6ft Extension Cord 2480 Joules 4 Adapter Spaces
remove_circle_outlineadd_circle_outline
Ships From:

Reading

19606

Street & Cross Street:

Butter Lane

/

George Street

Brand:

GE

Category

:

Electrical

Product ID

:

290

Product Code:

38663

UPC

:

030878386630

Availability:

2
10 outlets. 6ft plug. 4 outlets have extra spacing around them for bulky adapters.

Specifications
Cable Length
6ft

---

Color
White

---

Item Warranty
90 Days

---

Manufacturer
GE

---
| | |
| --- | --- |
| Cable Length | 6ft |
| Color | White |
| Item Warranty | 90 Days |
Related Products
more_vert
Staples 3' Cord 6-Outlet Power Strip, Black
close
Get extra outlets for electronic devices with this 3-foot charcoal six-outlet power strip. The sturdy three-prong plug is easy to plug into outlets, while the charcoal coloring adds a sophisticated appearance. This Staples charcoal six-outlet power strip is 3 feet long to connect to hard-to-reach power sources and has an illuminated on/off switch, making it easy to see in the dark.6 grounded (3-pr..
more_vert
Sunbeam 3 Outlet Power Bar, 12in
close
Power bar that makes 3 outlets from 1 with a net gain of 2 outlets. Best for small electronics like phone and tablet chargers, laptop chargers. Not to be used with high-end appliances like refrigerators, washers, dryers, or dishwashers...